On Cover Article
It's Time to Kick Butt and Take Inventory - Entrepreneurship
Chris Livingston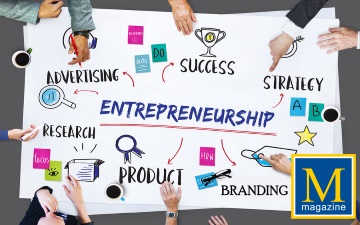 "Be undeniably good. No marketing effort or social media buzzword can be a substitute for that."
~ Anthony Volodkin, founder of HypeMachine


At the end of the year, you notice people from retail stores anxiously conducting inventory. Taking inventory is also required when preparing business taxes. Yet, there are other benefits that come from taking inventory. Managing inventory provides an opportunity to identify what products or services are selling and which of them are not. Taking Inventory is a vital task when it comes to succeeding in business.
As an entrepreneur, it's also vital to conduct inventory. You may be thinking, "Well, I don't sell tangible products; therefore, I don't need to take inventory." This is not about actual products; however this is about taking inventory of YOU and your business practices. Just as the retail store uses their inventory management to see what is selling and what's not selling, it's important that you take a close look at your business to see what is working and what is not working.
First, make a list of 5 things you have implemented over the past year that have not been successful. Maybe it's the mailer program that you started and you haven't seen any return but you just haven't gotten around to canceling your subscription. Every business has something that is not working but they just haven't gotten around to eliminating it. I've had a subscription to an online social media tool that I haven't used since I purchased it 2 years ago, I just canceled the subscription when I started writing this article; two years One Hundred and Twenty dollars later it was time to let it go. Whatever it is for your business these items must be eliminated. If they're not working or you are not using them why keep them? Next, you need to establish 5 new things that you can implement to replace the things that haven't been working, put a plan together, and start executing these 5 new strategies right away. But remember keep inventory so you know if they are working or not.
The next step in this inventory process is to take inventory of your competitors. Identify some of the techniques they have been using over the past year. Come on I know you've been critiquing the competition and telling your friends what the competition is doing wrong. Try and list 5 things that your competition has been doing that you feel has been detrimental to their business. Maybe they have let their marketing efforts fall to the way side or maybe they have let their sales team become lazy when it comes to their dress code and presentation. Whatever it is that you feel they are doing wrong be sure to take inventory and make sure that you are not making the same mistakes. Sometimes, we are not aware that we are doing the exact same thing until we take a step back and look at the whole picture. We get too caught up in the everyday operation of the business and concentrate on the competitor's welfare; we end up making the same mistakes. It would also be advantageous for you to make a list of 5 things that your competition is doing that appears to be effective for them. Consider if these 5 things can be implemented into your company. If so, develop a plan immediately and start executing it. If it's working for the competition why wouldn't work for you? Better yet, why aren't you doing it?
After conducting an inventory for your company and of your competition, it's time to conduct the most important inventory of all, a self-inventory. You need to find and acknowledge 5 things that you can change about yourself. Start with your appearance to your potential customers, I don't just mean your physical appearance, even though that is important. But what do your clients see when they first meet you? Are you organized? Do you look like a million dollars or loose change? Does your sales presentation sound like a home theatre system or a transistor radio? Maybe you have developed some bad habits over the last year that you need to eliminate. Maybe you've gotten away from managing your time wisely. Make it your goal to identify 5 things that you can do to improve yourself and your business and make a commitment to work on these changes and take inventory again in 6 months. If you do this, I guarantee that you'll be 20 steps ahead of the competition this year. As entrepreneurs, we also get distracted by the day-to-day operation of our business that we often miss the small details that are crucial to the success of our business.
It would also be beneficial for you to challenge your employees to take inventory as well. You may be surprised at the astonishing ideas they share with you, which will help your business thrive. Additionally, it gives your employees a sense of belonging and they feel that you value their thoughts and opinions.
---
About the Author:

Chris Livingston has become known as America's Maximum Thinking™ Coach. He's the author of the book Pathways to Success: A Better Way for Your Today. His "can–do" attitude and effective ability to teach interpersonal skills that bring forth rewarding real-life results, has made him a valuable "go-to" consultant and mentor for those facing challenges in business, career and life. With over 20 years as a successful entrepreneur, Chris has helped many businesses to shift and change their company's mindset to achieve greater success in sales, team efficiency, strategic business development, and in making excellence "The Standard." He believes in and embraces the philosophy of Dr. Wayne Dyer, "When you change the way you look at things, the things you look at change."

Click on the following link to learn more about: Chris Livingston